Sunday 31st December 2017, 6pm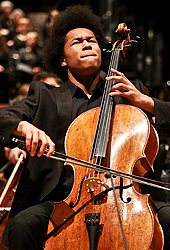 Royal Concert Hall, Theatre Square, Nottingham NG1 5ND
For more information and to book tickets, click here
Various artists
Smetna Dance of the Comedians
Elgar Salut d'Amour
Tchaikovsky Waltz of the Flowers
Roger & Hammerstein Younger than Springtime
Offenbach Les Larmes de Jacqueline – Elégie
Tchaikovsky Rose Adagio
Bizet Carmen Suite
Tchaikovsky Polonaise from Onegin
Carmichael & Gorrell Georgia on my Mind
Strauss Wine, Women and Song
Strauss Tik Tak Polka
Haydn Last Movt. Cello Concerto No.1
Zieher Busserl Polka
Christopher, James & Carson Always on my Mind
Anderson/Ulvaeus Anthem
Strauss Explosions Polka
"Put the glamour and romance back into New Year's Eve with this gala performance Always on my Mind. Recommended by Classic FM and full of glitz, theatricality and fun, this promises to be a night to remember.
Featuring timeless musical romances linked to the theme of love, including classic pieces from Tchaikovsky such as the Rose Adagio, Waltz of the Flowers and Polonaise from Eugene Onegin, stirring renditions of Bizet's Carmen Suite, Elgar's Salut d'Amour and popular show tunes Younger than Springtime from South Pacific, Anthem from Chess and the Elvis Presley classic Always on my Mind.
Led by Conductor Nicholas Kok, the Orchestra will also be joined by singer Andy Quinn, who shot to fame on Michael McIntyre's Big Show on BBC One and Nottingham superstar cellist Sheku Kanneh-Mason, winner of BBC Young Musician of the Year 2016.
With the popular 6.00pm start and 8.15pm finish, you'll have plenty of time to get home afterwards to reminisce… or to continue your celebrations in town as you prefer!
A mainstay for over 20 years, this concert is a Royal Concert Hall classic, moving, magnificent and full of New Year glamour. So why not bask in the opulence of this celebrated event and discover why it remains so hugely popular?"
Sinfonia Viva is supported using public funding by the National Lottery through Arts Council England