Isata Kanneh-Mason is a Postgraduate at The Royal Academy of Music, studying piano with Carole Presland, having been awarded the Gwendolyn Reiche Memorial Scholarship.
Isata was in the Piano Category Final of The BBC Young Musician 2014, winning The Walter Todds Bursary for the most promising musician before the Grand Final. She has won The Royal Academy Iris Dyer Piano Prize four times and won the Mrs Claude Beddington Prize 2016 for outstanding recital results at The Royal Academy. She is also winner of The Royal Academy Christian Carpenter Recital Prize 2018, The Harold Craxton Chamber Music Prize 2018 and the Wilfred Parry (Brahms) Prize 2018 at The Royal Academy.
Isata held the prestigious  Elton John Scholarship for her Undergraduate studies at The Royal Academy, performing with Sir Elton John in Los Angeles in 2013. She also held the Elsa and Leonard Cross Scholarship at The Royal Academy of Music, Junior Department, studying piano with Patsy Toh. She won two ABRSM Gold Awards at age 10 and 11 for the highest marks in the UK for grades 7 and 8 Piano.
She has performed around the UK and abroad, with concerto appearances, in solo recitals and in chamber ensembles, including at the Wigmore Hall, The Royal Festival Hall, St Martin-in-the -Fields, The Duke's Hall (Royal Academy), The Royal Concert Hall, Nottingham, Kings Place and Milton Court, Barbican in  London. She has performed in The Portland Piano Series in Oregon, USA, in The Barbican Sound Unbound Series, The Colour of Music Festival in South Carolina, The Hebden Bridge and Lincoln Music Festivals, in Amsterdam, the 
Netherlands, the Caribbean, The Cayman Islands, Canada and Switzerland.
Highlights this season include appearances at the Lucerne Festival, Montreux's September Musical, the Zurich Tonhalle, Wigmore Hall, Amsterdam Concertgebouw,  Saint-Denis Festival in Paris, and an extensive US tour, including a performance at Carnegie Hall.
Isata has performed several times on BBC television and radio, including Radio 3 In Tune, Radio 3 RPS Awards, BBC2 The Proms Extra, Radio 4 Woman's Hour, Al Jazeera TV, BBC World Service, Channel 4, The One Show, the BBC4 documentary: Young, Gifted and Classical, ITV Born To Shine, BBC2 Classroom Heroes, BBC Young Musician, and a documentary for Sunday Morning by CBS Television (USA).
Isata is grateful to The Nottingham Soroptimist Trust, to Mr and Mrs John Bryden, to Frank White and to Sir Elton John.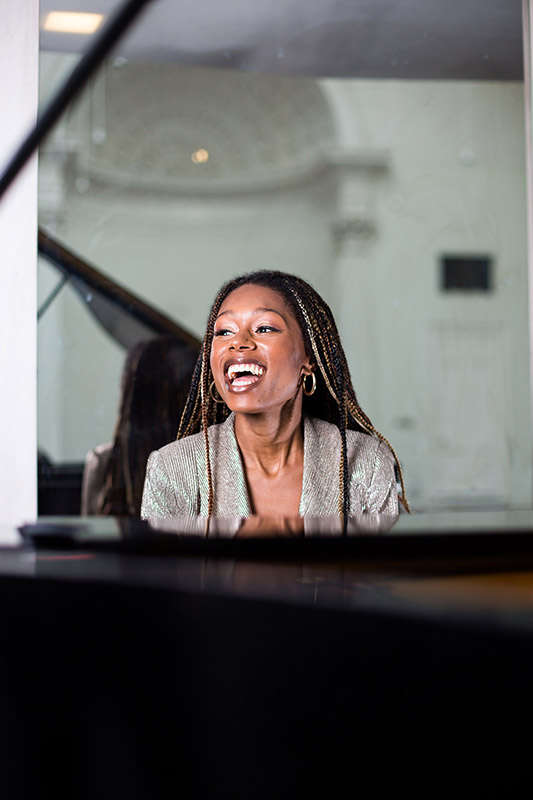 Listen to Isata
on Spotify