Braimah Kanneh-Mason is 20 years old and holds a scholarship to The Royal Academy of Music, studying violin with Jack Liebeck. He is a member of The Royal Academy Symphony Orchestra
(conducted recently by Semyon Bychkov), and Chineke! Orchestra, founded by Chi-Chi Nwanoku, and has played with the orchestra at The Royal Festival Hall, Queen Elizabeth Hall, in Belgium, Spain, around the UK and for The Proms at The Royal Albert Hall.
Braimah plays solo recitals and regular Chamber music concerts, particularly with the
Kanneh-Mason Piano Trio. They have performed around the UK and in the USA, including
at The Royal Concert Hall, Nottingham, The Highgate International Chamber Music
Festival, Leicester International Chamber Music Festival, The Colour of Music Festival,
Charleston, the Elgar Room at The Royal Albert Hall, The Barbican and two concert tours
of Antigua and Barbuda in the Caribbean. They have forthcoming concerts around the UK, including Bath and Belper Festivals, NTU International Music Series, venues in London, and Erin Arts Festival (Isle of Man).
Braimah also plays with the Kanneh-Mason family in Nottingham, London and Bath in 2018, and
appeared with them on BBC2 in 2017, as well as on The BAFTAs in 2018.
Braimah has been a mentor at the Sistema England residential course, and a tutor for the
residential violin course in Antigua, 2017 and 2018. He was a Finalist and won the String
Prize at Nottingham Young Musician 2015, and he won the Carlton MVC Music Makers
Award 2016. He is winner of The Dame Ruth Railton Chamber Music Prize and the John
McAslan Senior Violin Prize at The Royal Academy.
Braimah has appeared on various television programmes playing music with his siblings,
including ITV's Born to Shine, Britain's Got Talent, Al Jazeera TV, BBC World Service,
Channel 4, the BBC4 documentary, Young, Gifted and Classical, Classroom Heroes on
BBC2, The One Show and The BAFTAs. He was interviewed on BBC Radio 4 and in
Music Teacher Magazine. He has had Masterclass tuition from Lorraine McAslan and
Tasmin Little.
Braimah played violin with the band, Clean Bandit, and has appeared with them
throughout the UK and around the world, including at The Mobo Awards, the BBC Awards,
X Factor (Italy and UK), Top of the Pops, on tour in the USA, Japan, South Korea, Dubai
and Europe. He also recorded with them on the no 1 single, Rockabye.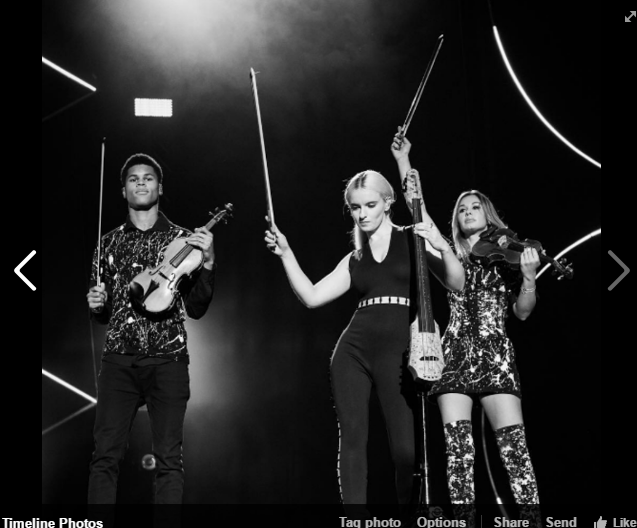 Braimah is very grateful to The Royal Academy of Music, Frank White of Ladystone
Violins, y-notts, Mr and Mrs John Bryden, and to the Nottingham Education Trust.