Aminata Kanneh-Mason
(18)
Piano & Violin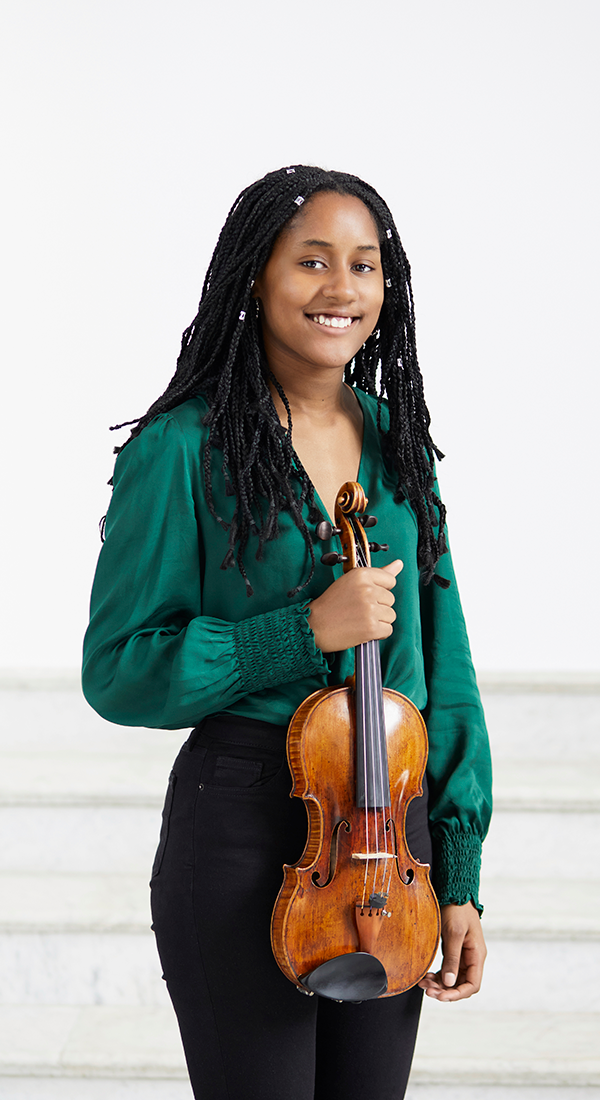 Aminata is eighteen years old and attends Trinity Catholic School in Nottingham. She currently studies violin with Joshua Fisher, having previously attended The Primary and Junior Royal Academy of Music for six years, where she studied violin and piano.
Aminata gained Grade 8 distinction on the violin and Grade 8 on the piano aged 11 and 12. She has singing lessons with Matt Burton and drama, theatre and acting direction with Ellis Jones.
At the BBC Proms 2021, Aminata performed Carnival of the Animals (Saint-Saëns) and Revel (Kidane) with the Kanneh-Masons at The Royal Albert Hall. She is a member of Chineke! Junior Orchestra and has played with the orchestra in venues
such as The Royal Festival Hall, Southbank.
Aminata has performed throughout the UK, and in the Caribbean, playing solo and chamber music. As a concerto soloist, she has played Mozart Violin Concerto in G with The Orchestra of the Restoration and Bruch Violin Concerto No 1 with Djanogly Orchestra in 2019. She has also performed in Australia, the USA and Canada, Europe, and Antigua and Barbuda with the Kanneh-Masons.
Aminata has appeared on several television and radio programmes with her siblings, including the BBC4 documentary, Young, Gifted and Classical, The One Show, (BBC1), The BBC Proms (BBC2 and BBC4), The Royal Variety Performance (ITV), and Strictly Come Dancing (BBC1). She is featured, with The Kanneh-Masons, in a USA documentary, Sunday Morning, by CBS Television and the Imagine documentary for BBC1, This House is Full of Music. She has also recorded on the album, Carnival, for Decca Classics.  In 2023 she co-presented a radio programme on Classic FM entitled The Kanneh-Mason Family Takeover.
Aminata is very grateful to The Nottingham Soroptimist Trust and to the Nottingham Education Trust for their support.