Sheku is eighteen years old and is the Winner of BBC Young Musician 2016, which he won having just turned seventeen. He has won a scholarship to the Royal Academy of Music from September 2017, studying with Hannah Roberts. Sheku also holds the ABRSM Junior Scholarship to The Royal Academy of Music, where he studies cello with Ben Davies. He also studied piano with Druvi de Saram at the Academy, gaining distinction at Grade 8.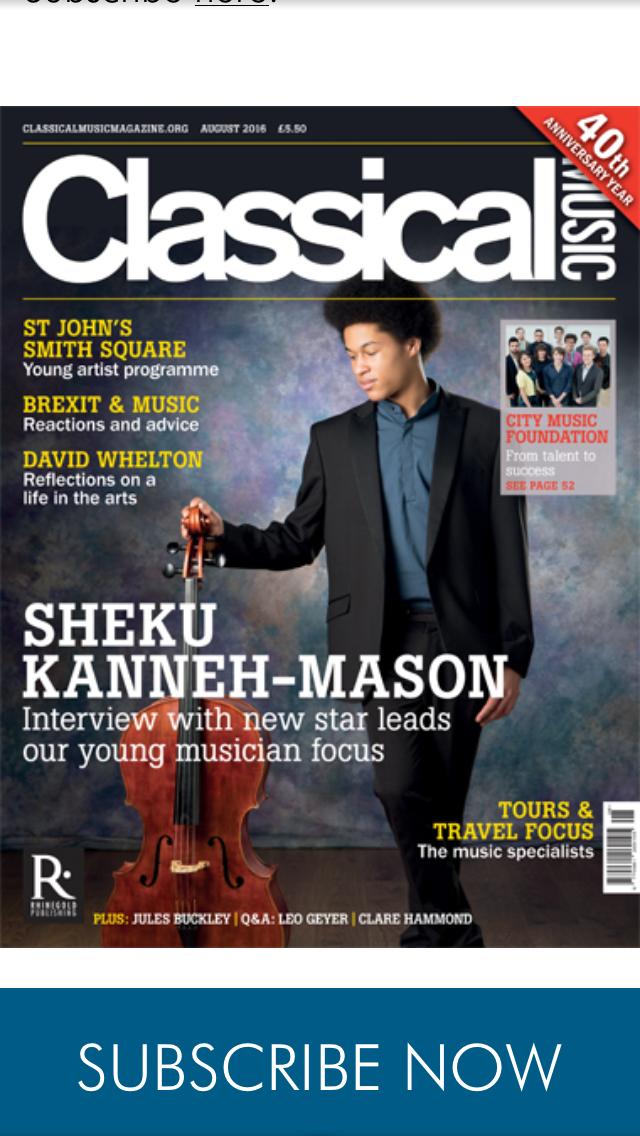 He began studying the cello at age six with Sarah Huson-Whyte and at the age of 9, Sheku won the Marguerite Swan Memorial Prize for the highest marks in the UK for Grade 8 cello. He is winner of the Royal Philharmonic Society Young Instrumentalist Duet Prize 2016. He won the Lower Strings Prize at the Royal Academy three times and he held the String Recital Trophy for the Derby Music Festival for five years. He won the Royal Academy Dame Ruth Railton Chamber Music Prize 2014 and he is the Gregynog Young Musician 2015. Sheku is winner of the Pro Corda Chamber Music Competition 2015 and held the international Junior Raphael Sommer Music Scholarship 2013. He is the Junior Ambassador for London Music Masters.
Sheku is a member of Chineke! Orchestra and he also plays Principal cello in Chineke! Junior Orchestra and in the Junior Royal Academy Symphony Orchestra. He was for several years a member of the National Youth Chamber Orchestra. He plays regular chamber music, particularly with the Kanneh-Mason Piano Trio and String Quartet, and the Mitzuka String Trio. He has given numerous concerts throughout the UK, in Europe and the USA, including solo, chamber and concerto performances, and is booked through to the end of 2019 throughout the UK and abroad, including  Amsterdam, Zurich, Los Angeles, Canada, Cayman Islands and The Caribbean.
He has performed several times on the BBC Radio 3 programme, In Tune, and has featured on Front Row and Saturday Live on Radio 4, The BBC World Service, Al Jazeera TV, Channel 4 Sunday Brunch, The Violin Channel (as featured artist), The Proms Extra (BBC2), Proms in the Park, and BBC Young Musician. He also featured in the BBC4 documentary: Young, Gifted and Classical, and The One Show (BBC1), and he performed at the BAFTAs in February 2017.
Sheku has also appeared in many media publications, including The Financial Times, The Guardian, The Times, The Daily Mail, The Evening Standard, The Observer, The Music Teacher magazine, Classical Music Magazine and ESTA magazine.
Sheku has recently signed a major recording contract with Decca Classics, Universal and his first EP wasreleased in February.
He plays a cello made by Antonius and Hieronymus Amati c1610, which is kindly on loan from a private collection.
Sheku is managed by Enticott Music Management in association with IMG Artists:
Kathryn Enticott – General Manager
kathryn@enticottmusicmanagement.com
Joseph Chadwick – Associate Manager
Katyah Higham-Stoianova – Assistant Manager