Follow Isata Kanneh-Mason
Isata, the eldest of the Kanneh-Masons at 23, started piano lessons at age 6 and went on to score the highest marks in the country for her grade 7 and 8 piano exams. After studying at the Royal Academy of Music Junior Department, she went on to become an Elton John scholar at the Academy's senior department after performing with Sir Elton in Los Angeles in 2013. She has released a debut album on Decca Classics featuring the piano music of Clara Schumann.
ROMANCE: THE PIANO MUSIC OF CLARA SCHUMANN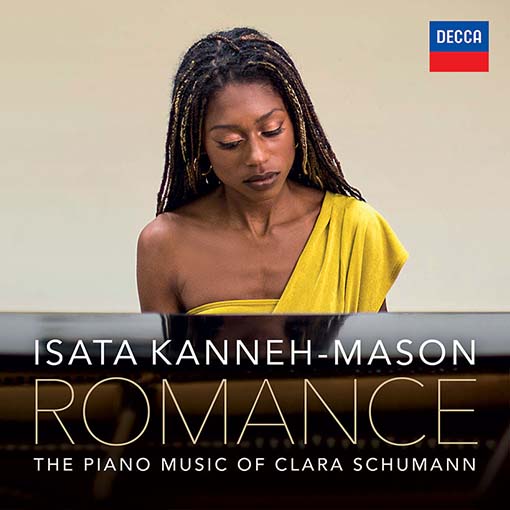 Listen on Spotify
Isata's Decca debut album is in-stores and online now!
"She is a pianist who makes lines sing beautifully and virtuosic passages dance, finding intimacy and eloquence at telling moments… [in the Concerto] Kanneh-Mason matches what we know of Clara's own approach, which was to forget ego and put everything at the service of the music, ably matched by the RLPO and conductor Holly Mathieson."
"Kanneh- Mason's interpretation is as convincing as any of the nine rivals available. …If you buy only one disc of Clara Schumann in her bicentenary year, this is the one to have."
"It ranks among the most charming engaging debuts I can recall…She brings weight and emotional heft to this uneven work [the Concerto] that are entirely convincing, and is well matched in the exuberant finale by Holly Mathieson and the RLPO …but it is the performances of the two song transcriptions that show what a gifted musician Kanneh-Mason is."
SEE ISATA LIVE IN CONCERT